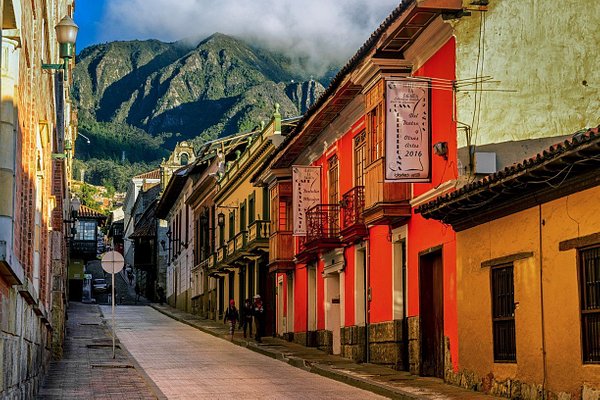 Bogotá is nested in the Andes mountains and sits 8,660 feet (2,640 meters) above sea level. There are numerous opportunities to experience the incredible biodiversity and culture in and around Bogota. Whether learning to dance salsa, tasting some of the best coffee in the world, or planning a visit to the Caribbean or the Amazon, we will help make your visit to Bogotá and Colombia fun and safe.
TRAVEL AGENT: Aviatur (The largest travel agency in Colombia)

We have contacted Aviatur to get a personal travel agent for the people attending the conference. If you want help with your travel plans, you can reach them by email at [email protected] and [email protected], on the phone at +57 6013821616 + option 1, or chat with them on WhatsApp at +5713821616
TOP DESTINATIONS IN COLOMBIA: According to Lonely Planet (and us!)
Cartagena: At the top of most travelers' bucket lists for Colombia is the beautiful city of Cartagena. It's easy to see why: the old town is a magical walled complex of cobblestone streets and squares where local performers shake and twirl in a lively embodiment of the city's famous energy.
Eje Cafetero (Zona Cafetera): The world's third-largest producer of coffee beans, Colombia is a fantastic country for tastings and tours. Find out what all the fuss is about by exploring the Zona Cafetera.
Tayrona National Park: Home to palm-lined tropical beaches and secluded coves, Parque Nacional Natural Tayrona is one of Colombia's natural jewels. Located along the Caribbean coastline east of Santa Marta, this national park is a paradise of relaxation.
Medellin: Bogotá might be the Colombian capital, but it's the smaller and nature packed city of Medellin that tends to capture the hearts of visitors.
Exploring Colombia: some ideas…
One week in Colombia: https://www.layerculture.com/blog/one-week-in-colombia/
SAFETY INFORMATION:
Visiting Colombia is safe as long as you follow common safety precautions for traveling in major cities around the world. These include:
Do not walk alone at night. We recommend taking Uber at night in general.
Keep your cell phone and other valuable belongings in your pocket/bag in public spaces.
Do not wear valuable jewelry or watches.
Use Uber as a form of transportation in the city. Uber is widely available and provides a safe ride. From the airport to your hotel, you can use a taxi service, as it is easier to access taxis at the airport, especially when you first arrive in the city. Within the city, it is easy to access Uber or request your hotel reception to call a taxi.
The US Department of State warns about unrest and crime in certain parts of Colombia including the Venezuelan border. This does not include Bogotá or surrounding areas. Several major tourist destinations such as Cartagena, Coffee Zone, Tayrona National Park, and Medellin are not on this list. Such region-specific warnings are present in most Latin American countries such as Mexico.